Social media marketing contains many types of marketing in which some important types of marketing is that:
In social media marketing we can explain these six types of social media marketing.
1. FACEBOOK MARKETING
This is the first type of social media. Now, Facebook is a universal social media network. With 2.6 billion monthly active users. Facebook is considered as the most popular social media network at the moment. So it is important in social media marketing.
Every people use Facebook to create their personal profiles and then connect with their friends and associate via adding them as so-called Facebook friends. Users can also share their information about themselves, and add photos, videos, story and other people's photos, videos, information, and contents, etc.
When it involves promotions and the usage of Facebook for such purpose, customers can create pages and groups. In each case, one should first have a private profile as a way to be capable of creating a page or a group.
Facebook Page and Group
This is very important to understand the difference between facebook book page and group.
Pages are for celebrities, Business enterprises, and institutions, where they can create an online presence via the addition of a cover photo, profile, some basic information about the company, websites, etc. Privacy setting for pages are fixed to the public, that means that everyone can see the content material posted on the web page. A web page could have numerous directors or managers, assigned via the creator or author of the web page.
Facebook groups are created for users who want to share the same interest or information. Everyone can create a group and connect with customers and users who don't naturally have to be friends of Facebook. An organization has an admin, who can promote different members to admins. Groups may be open or public, where anyone can see the organization or group and the post in the group. Closed groups are seen to everyone, but only the member can see the content, while the secret groups are only visible to the group members.
Due to the nature of the groups, they are very useful for groups of people, like colleges, students, etc.
Create a facebook page
https://www.facebook.com/pages/create/
Before creating a Facebook page you need to create a Facebook personal account in which you can create a Facebook page or Facebook group. After creating a profile you will see left side menus in which you can see some options like the page, groups, etc.
Now click on pages and then create a page according to your need.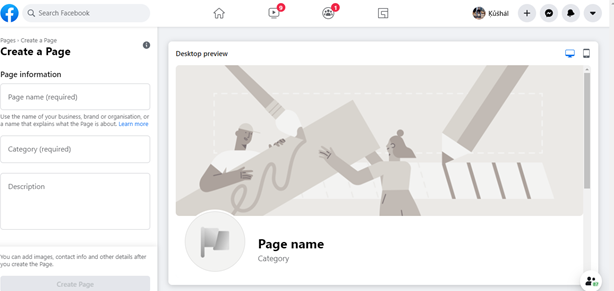 Create Facebook group
https://www.facebook.com/groups/feed/
Everyone can create a group on Facebook using the option available in the News Feed. Click on the button "Group" next to the section with groups in the menu on the left side of your Facebook Feed.
After that you will see a group news feed in which you will see a option "create group" and then click on create group and then fulfill all details and create your group.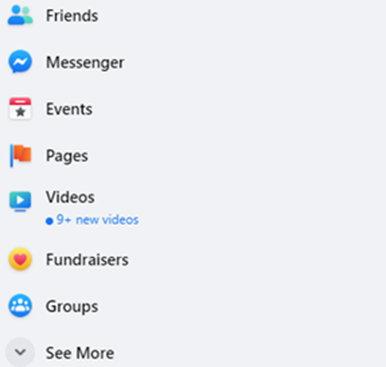 Steps to create group:
Add the group name.
Choose group privacy.
Choose your friends on your friends' list.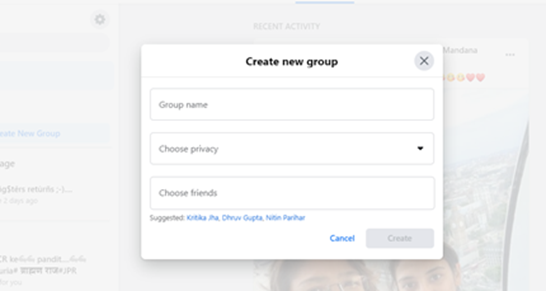 2. INSTAGRAM MARKETING
This is the second type of social media. Instagram advertising is the manner that manufacturers use Instagram to connect up with their goal audiences and marketplace their offerings. Recently, it's increased popularity as an interesting approach for manufacturers to expose off their cultures, recruit new employees, interact with customers, and show off products in a brand new light.
Instagram is similar to Facebook and Twitter, absolutely everyone who creates an Instagram account has a profile and newsfeed. Users can have interact with each other via way of following, being followed, personal messaging, and commenting on or liking photos and videos. The in-app filters and modifying alternatives Instagram gives make the app precise because it turned into the primary app to provide in-app modifying to this extent.

Instagram allows users to add photos and videos to their profile and edit them with various or diverse alternatives. Instagram hosts dozens of original filters that customers can upload to their photos. These preset filters make various modifications to photos, which including light, giving the image modification tool, growing or reducing saturation, and much more. Additionally, customers can edit pix without delay withinside the platform, in preference to the use of a third-party image editor. If they don't like one precise filter, they could use Instagram's modifying feature, to alternative change the contrast, brightness, structure, warmth, saturation, sharpness, and more.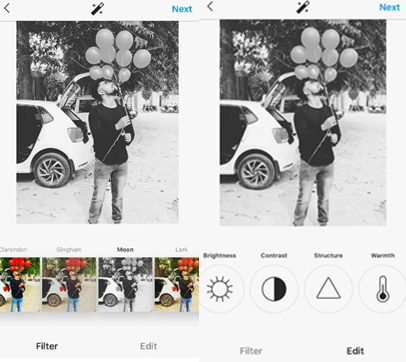 While Facebook's mind-boggling user or customer numbers make it the unchallenged king of social media, the company's fresh addition is starting to appear to be the king of social marketing.
Instagram now boasts more than 1 billion monthly active users and commands one of the highest audience engagement rates in social media, approximate 110% higher than Twitter.
Instagram is a photo and video sharing social media application, which is not only used for video, photo sharing, this is also used for business purposes, marketing purposes, story updations, etc. It is originally created for smartphones.
If you use Instagram for marketing or business, so you need to follow these six-step and then you can get full benefits and profitable business through Instagram.
Instagram for business
Step 1. create your Instagram profile account and then get an Instagram business account.
In this firstly, we can create a personal Instagram account after then we will discus about how to convert personal account to business account.
Set up a Instagram account:
Download the Instagram app for iOS, Android, and Windows.
Open the app and click on sign up.
Enter your email information and then click Next. If you want to connect your Instagram with Facebook you can click on login or sign up with Facebook.
Select your username and password and fulfill your other information.
Click Done.
Now, you have a personal Instagram account.
Convert personal account to business account.
Log in to your existing account.
Tap the profile icon and go to your profile.
Then click on three dots… top right of the screen then taps set.
Tap switch to a business profile, then continue.
Add your business account information or contact information.
Completed set up your business account.
Step 2. Create a great Instagram strategy
Define your target audience: find what type of content the audience needs, how many males and females in your Instagram account, and what they expected you. Guide your audience about your business or brand step by step. Your targeted audience clearly understands you and your business.
Set goals and objectives: Knowing what you need to perform via using Instagram for business is the first stage in developing a powerful Instagram strategy. Understanding your desires continues you on target and permits you to awareness all your efforts on accomplishing actual business objectives.

Effective goals observe the SMART framework. That method are:

Specific
Measurable
Attainable
Relevant, and
Timely
As you construct or build your Instagram presence, it's ok to have goals primarily based totally on display metrics like likes, follows, and comments. But make sure you also fixed goals that are related to real business objectives.
Commit to a regular posting schedule:
Firstly you start building a following on Instagram, your fans will await to see posts from you on a regular or ordinary basis. You need to maintain them aware of your brand, logo, and engaged together along with your content material without crushing them to the point that they tune out—or worse, unfollow.
Step 3. Optimize your profile: you need to entered some basic profile information when you create your business account.
Write your bio: When you write your bio you have attention about your bio characters, its only 150 words long but it needs to write a very effective bio. It shows who you are to your first-time visitors, and show about your brand what is your brand and how your brand is perfect for peoples. and why they should care.
Optimize your profile picture: In this section, you clearly take care of the profile picture, only use the same picture you use on other social media platforms it is easy for people to identifying your brand easily.
Your profile photo is cropped accordingly the profile size helps you to fully visible to clients or people. And you must try to set only your business logo picture because they help you to see your brand name on the front of your account.
Step 4. Share best and great content: You can follow these information step by step
Firstly, you can think about your content and write your content without any errors like Grammarly error.
Add some photos and videos related to your content.
When you post photos and videos with your content you must add different color effects in your photos and videos. They will attract customers towards your brand.
Describe meaningful content.
Highlights your main contents points and highlight your brand name in content.
Take amazing photos
To make Instagram work in your business, you've really were given to have incredible photos. But you don't want to be an expert photographer, and also you don't want a whole lot of equipment.
Your cell phone is your first-rate buddy on the subject of Instagram photography,( You can click photographs from your normal phone) in view that you could submit immediately out of your device.
Follow:- use natural lights, Avoid harsh lights, Use the rule of thirds, try different angles, etc.
Edit your photos like a pro: This is no matter how your photo is great or amazing, you will edit your photo before posting to Instagram. You can use some photo edit apps like VSCOcam or Enhance to provide an advanced feature for editing a unique image.
Tell great stories with Instagram Stories: More than 500 million people use Instagram Stories every day, and 40 percent of people surveyed said they became more interested in a product or brand after seeing it on Stories. Now, a third of the most viewed Instagram Stories are posted by businesses.
Content that disappears after 24 hours and stays broadcasting functions make Instagram Stories the appropriate region to take innovative risks with crowd-pleasing pics and videos.
Write better and attractive captions: Write meaningful captions and write captions related to post. When you write the caption you should be more attractive and good.
Step 5: Grow and engaged your audience: In this you can follow this steps:-
Follow and engaged with relevant Instagrammers.
 Use the right hashtags.
 Responds to comments and mention properly.
  Work with Instagram influencers.
  Promote your account on other channels.
  Use Instagram ads to get in front of a large and targeted audience.
Run an Instagram-specific campaign.
Step 6: Measure success and make adjustments: Track results with analytics tools and use A/B testing for Instagram.
3. TWITTER MARKETING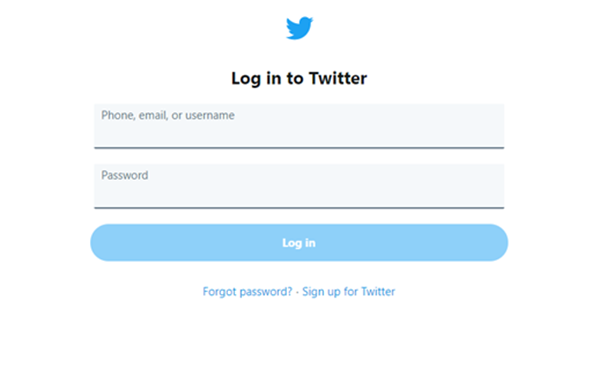 This is the third type of social media.
If you have a twitter account so simply tap on lof in button otherwise If have not an Account on twitter so create an account, tap on sign up and fill up all information which is need to open a new account.
Twitter is an important social media network. With 330 million monthly active users and 145 daily active users. 34 percent female and 66 percent male included. So it is important in social media marketing.
Twitter is a 'microblogging' system that allows you to send and receive short posts called tweets. Tweets can be write up to 140 characters long and it can include links to relevant websites and resources. Twitter users can follow other users. If you follow someone you can see their tweets in your twitter 'timeline.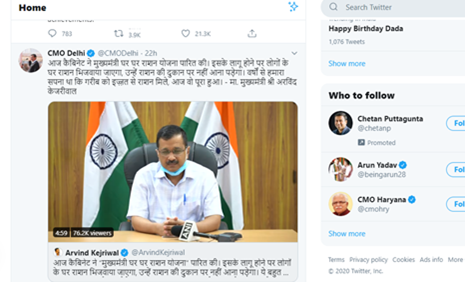 You can choose with your interest to follow people and organizations with similar academic and personal interests to you. You can create your own tweets or you can retweet information that has been tweeted by others.
Retweeting means that information can be shared fastly, quickly, and efficiently with a large number of people.
Twitter for marketing
At a starting glance, it can look like the best manner to apply Twitter is simply to expose up and begin Tweeting. While you do need to be organized with masses of content, there are a few techniques that successful businesses use to face out at the platform and use it to their advantage.

Let's dive into a few Twitter advertising hints that any logo can use to make the maximum out of the platform. If this type of technique catches your eye, jump proper to it with those links.
Best tips for twitter marketing & Create your twitter better
1. complete your profile
Handle: This is your account name and using these other people can find you on twitter.
Profile photo: set a profile photo if this is a company or business account so you set a logo, otherwise this is your personal account so you set up a good looking attractive photo on your profile photo section.
Cover photo or header image: Your header image arrives on your profile page, and you may want to update it more often than your profile photo. It can be reflected in current campaigns, provide information, or offer insight into your company processor updates.
Bio: A Twitter bio is cover at 160 characters, so preserve it cross. Use a tagline, or get innovative to reveal off your business personality.
URL: This is important some time you run a campaign or other activities but people are not finding these activities, so update URL when you run any activity.
Location: yes this is the small detail but it is more important when you doing any business-related activity you mention your location makes your profile feel more personal and real to audiences.
2. Manage your voice to win fans: Twitter is a very communicative platform. Even you can use photos and videos for winning fans and connecting with followers.
Show personality: Your brand awareness should consist of all over your platforms, and communicate your brand awareness.
Be human: Nobody likes a tweet that sounds like it came from a robotic or ascriptive. Twitter users need to recognize there's an actual person listening and busy with them from the back of your account.
Be original: Do not tweet a repeated message or copy messages. Every time post a unique message.
Be sincere: The Goal of twitter is not to attract followers by any meaning needed;
It's to help you to connect with customers and create trust with customers.
4. Run a twitter poll: Twitter does not offer any type of creative options for busy or engaged as a platform like Instagram or Facebook. It is clearly focused on conversations, replies, mentions, etc.
5. Use more hashtags: Hashtags are a function on each social platform, however, they had been born on Twitter. And they continue to be a useful device to enhance your engagement and discoverability at the platform.
Understanding how and in which to apply hashtags on Twitter will make your content material extra impactful and assist you to attain new audiences who percentage your interests.

Find the proper hashtags: Use hashtags that make experience to your industry and niche. Checking out what hashtags are famous amongst your competition can offer insight.

Create a branded hashtag: This is a hashtag particular in your business, which may be used to accumulate and prepare content material approximately your brand. They're perfect for selling campaigns and locating user-generated content material.
Follow trends: Follow trending accounts, topic and hashtags.
Do not overloaded it: use only one or two hashtags in a tweet.
6. Tune in with social listening: Twitter isn't pretty much speaking— it's also about listening. "Social listening" means pay attention to conversations occurring on Twitter that offer insights into your clients and community.
Not simplest are you able to discover what humans reflect on consideration on your emblem and products, you could additionally study from different trending subjects and discussions. Social listening lets you refine your messaging, make loyalty and trust, and deal with ache factors and proceedings proactively.
Some of the subjects you must be aware of include:
Your business name
Your competitors' names
Industry hashtags or buzzwords
Relevant trending subjects
9. Run an ad campaign: Marketing on Twitter can more help you to grow your huge amount of audience, promote your products, Drive traffic to your website, and many more.
4. PINTEREST MARKETING
This is the fourth type of social media. Pinterest is an image-based social media network in which users, customers, companies, and businesses can promote and discover their interests by pinning images and videos on virtual publication boards. It has developed right into a highly-powerful promoting device for online businesses because of its visual nature and retail-friendly audience.
It uses keywords and visual searches to help it's users find what they're looking for.
Type in the Pinterest search bar and you'll see results of common searches relating to those keywords – just like Google.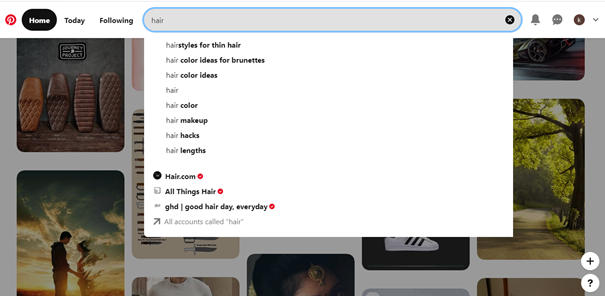 Pinterest started as an area where humans may save their ideas online. It becomes an easy manner to update folders of dream home ideas and clippings from magazines.
It's developed into a huge search engine as users save their ideas and post their own content to the platform.
Pinterest for marketing:
1. Distribute your content: On Pinterest, you share content material on Pinterest forums or boards. Boards save all your Pins and distribute your content material on your fans to discover.
You will have as many forums as you need, and that they may be prepared into themes, ideas, plans, or varieties of an idea to make it smooth on your target market to locate the content material they're searching for.

You also can invite human beings to sign up for your boards — which might make your board an "organization board" — in case you need different participants to feature content material they agree with works together along with your board's theme. This is a superb manner to grow engagement and interplay in your profile.
2. Build a community: Online groups convey together like-minded human beings or peoples and serve as helpful hubs for businesses.
With a Pinterest network, you could count your fans and lovers to engage together along with your boards, expand your content, and make their manner for your website — using visitors inside the process.

There are over 367 million people who use Pinterest each month. By treating your Pinterest board as a two-manner street by which you could engage with and have interaction customers (now no longer like a one-manner billboard), you could construct a devoted network of Pinterest customers who might also additionally end up customers, too.
Build your Pinterest following:
Promote your Pinterest account through your different social networks.
Follow the account you consider might need to follow you back.
Watch what your competitors are doing to boost up or increase their base of fans and analyze from their techniques.
Use key phrases and hashtags for your posts
Ask influencers to re-publish a number of your content material to advantage the eye in their fans.
Pay for a Pinterest advertisements account to run advertisements at the platform.
3. Educate customers: Pinterest is popular with tutorials, infographics, how-tos, and hyperlinks to extra instructional content material. Given its propensity for visible content material, it's an effective channel to teach and have interaction with customers.

While developing and sharing content material in your Pinterest profile and advertising and marketing to users, make certain to maintain your target market in mind.

Similar to the manner you will whilst developing new products, growing your branding, or posting to different social networks, you need to make certain you're pushing out content material that appeals in your target market, contemporary customers, and consumer personas on Pinterest.
4. Drive website traffic and boost online sales: Pinterest, not like Instagram, lets in you to hyperlink your visible content material to any other internet site — namely, your internet site.
This characteristic lets in you to proportion each written and visible content material and direct customers lower back on your internet site withinside the process.
This is an effective addition to your advertising as it could enhance on-line sales, too. Many manufacturers use Pinterest to show off product snapshots at the same time as sharing content material.
5. LINKEDIN MARKETING
This is the fifth type of social media. LinkedIn marketing is the system of the use of LinkedIn to make connections, generate leads, improve brand awareness, advance business relationships and partnerships, share content, and drive visitors for your website.
LinkedIn is an essential part of many successful business advertising techniques these days due to how powerful it is able to be in increasing expert networks.
When you operate LinkedIn to marketplace your business, you increase access to helpful or useful features similar to analytics, connections, and brand-building, simply to name a few. But first, here's a short primer for the once of you who can be new to LinkedIn.
Create you LinkedIn profile: You have an a LinkedIn account so log in otherwise click on this link
( https://www.linkedin.com/signup/cold-join)and create you account in just few minutes.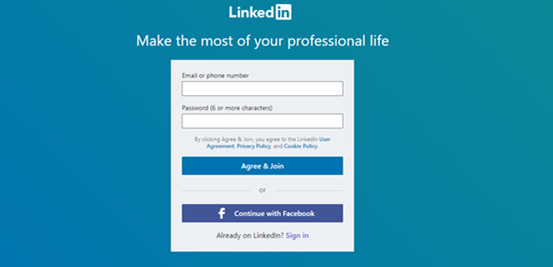 Use LinkedIn for marketing
Keep clarifying your LinkedIn profile: First Impressions are important, and your profile is a great moment to impress.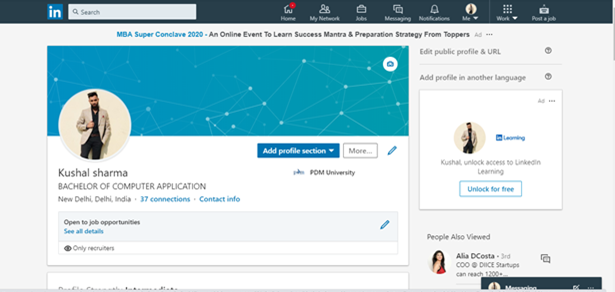 Create a powerful LinkedIn page: Your web page needs to provide adequate possibilities for potential customers to study extra approximately your brand and those who paintings there, in addition, to have interaction with applicable content.
Define your audience and goals: Once you recognize what you need to accomplish, it's simpler to outline your audience. If your corporation sells a productiveness device for social media, your purpose can be to elevate brand awareness amongst LinkedIn participants with activity titles like "social media manager" or "social media lead".
Better-described audiences cause higher lead generation.
Optimize your page for search: A well-optimized Company Page will help you increase visibility a number of human beings trying to find what your company offers.
Insert keywords, Link to your page, Share relevant content.
Grow your page followers: Your updates arrived directly in a follower's LinkedIn feeds.
Some tips you can follow for grow your followers.
Use a follow plugin on your website.
Share your profile with a huge amount of people.
Promote your profile link to other social media channels.
Create a more effective profile and content and share it at more popular groups.
Publish engaging content on your company page: Published large and simply understandable content on your company page. And share content page links on other websites or other social media platforms.
Use rich media to increase engagement: In this when you can post an article or content, you can add some related videos, photos in this content.
Time to time update your profile and add some interesting content on your web page.
Upload live videos regularly on LinkedIn.
Upload documents, like PDFs or PowerPoint file, that can showcase what create your brand unique.
Highlight your best content or articles: Promote or boost your content in your audience's timelines or feed.
Attract followers by getting regular updates at the front of a huge amount of people.
Use LinkedIn comprehensive targeting to reach the right audience.
Use direct sponsored content.
Create LinkedIn ad campaigns: Reach your marketing goals with more adoptions. You can create campaigns and ad which is more costly but very effective.
6. YOUTUBE MARKETING
This is the sixth type of social media. YouTube is a video sharing servicing that allows users or people to watch videos posted by other users and upload videos of their own. …
While many companies and organizations are used YouTube to promote their business, increase their branding position, and provide their business information in depth through videos. 
YouTube was started as an independent website in 2005 and was obtained by Google in 2006. Videos that have been uploaded to YouTube may also seem at the YouTube internet site and also can be published on different websites, though the documents are hosted at the YouTube server.
YouTube videos are posted by people from all over the world, from all types of backgrounds. Therefore, there is a huge amount of videos available on YouTube. Some examples include amateur films, homemade music videos, sports bloopers, and other fun events caught on video.
Many people are also using YouTube to post instructional videos, mobile unboxing, fitness training, and other how-to videos. some popular channel on YouTube is like technical Guruji, bb ki vines, Lshokken films, some food channels, etc.
YouTube for marketing
If you want to use YouTube for Marketing and take benefit, increase brand awareness, do promotion, so following these steps.
1. Set title:
This does not matter how your video looks great, video is seen more time, if no one clicks on it, is it is totally useless. So it is compulsory that you optimize your video titles to bring in viewers.
Search the right keyword: keywords in the title tells better crawlers what your video is about. And better keywords also tell your viewer what they can except.
Write a short keyword: The length of the title keyword is to write in short and attractive. It exceeds approx. 60 characters. Readers should see the full title in a line.
Create clear and descriptive titles: Don't pressure visitors to discern it out. Let readers realize what the video is about.
Tell readers why they want to look at the video. They want a cause to spend their time and think about the content. They need to understand how they'll gain from it.

2. Create perfact YouTube thumbnails:
Effective thumbnails make customers click on proper away and make your YouTube channel extra recognizable. Thumbnails must be applicable to the video's content material and title.
Include brief descriptions and applicable pics on your thumbnails to assist human beings to recognize what your video is about.
Here are a few beneficial suggestions for custom thumbnails:
Use standard video sizes – 1280×720 or 1920×1080. Smaller sizes can appear blurry.
Use high-quality images.
Include the video name for your thumbnail because it enables appeal to greater views.
Image codecs must be JPG, PNG, GIF, BMP, or TIF.
Use the 16:nine component ratio that works pleasant for YouTube players.
Keep a regular appearance and cling to this fashion to all of your thumbnails.
Use emotion. Include thrilling faces and awareness at the eyes.

3. Limit Videos to Under Five to Ten Minutes
If you need to get the maximum from your motion pictures, consciousness on their general watch time. Based at the Comscore survey, the length of the bulk of the YouTube motion pictures is ready for five minutes.

If you create lengthy motion pictures via way of means of simply repeating yourself, it won't help. People want an awesome purpose to be inquisitive about your video. You can test with video duration to discern out what works first-class for optimum engagement.

Here are some recommendations you need to follow:

Create great content material in every video
Optimize your motion pictures to be beneath neath five minutes
Make them interesting, informative and short.
4. Brand Your YouTube Channel
Branding your YouTube channel is the following element you need to do to make it visually appealing and inspire traffic to take you seriously. It enables you growth logo attention and spend extra time together along with your audience.
Here is a superb instance of branded YouTube channel at Work Examiner:

YouTube advertising technical guruji
Use your corporation brand on your channel. If you're an impartial video blogger, you may use your headshot as opposed to a brand.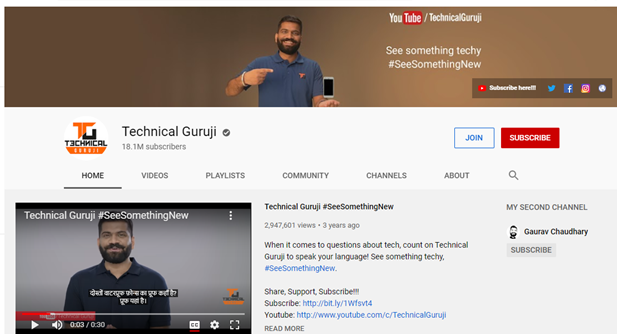 To assist human beings discover you, upload titles, and outlines for your videos. On the pinnacle of the banner image, you can also consist of hyperlinks for your internet site and social media.

If you communicate approximately a sure product to your video, you may additionally use self-branded overlays. Many human beings don't recognize approximately these, however, they provide you with a risk to hold human beings after they watch your videos.
5. Include Calls-to-Action (CTAs)
Adding calls to action in your videos, pictures will assist you to create greater engagement on YouTube. They also can be irritating, so attempt to use them withinside the proper way.

No, be counted what dreams you have, to get greater likes or greater subscribers, be clean and concise approximately key moves human beings want to take.
You can upload your internet site hyperlink or ask for subscribers in your channel withinside the video or on the give up to assist human beings to recognize the subsequent step.


If your aim is to draw a variety of subscribers, attempt to do it smartly. Your efforts might be rewarded with inside the lengthy run.
6. Share Videos by Social Media:

Sharing your videos, pictures on social media is essential in case you need to develop your channel. As a savvy marketer, it's vital now no longer simplest to put up your present-day videos, pictures on social media however additionally to be lively in social groups and groups.

Each social platform has its personal culture, and also you want to determine out which one is quality for you and in which your efforts may be appreciated.
Use some tips for share your video:
Add your videos to the SlideShare presentation.
Share your videos on Pinterest and Twitter.
Make small videos related to your youtube video on the Facebook page.
Integrate your video into your blog content.
Published your video on Scoop.it.
Promote videos on Facebook, Instagram, Linkedin, Twitter, Pinterest.
Add your channel link in all social media channels.
7. Work With Other YouTubers
Сollaborative videos have emerged as famous among content material creators. It's a very good manner to discover a new target market and boom your subscriber base. It's additionally a win/win scenario for you, your accomplice, and your goal target market.

Collaborating with different influencers is a piece of superb social evidence circulates to your target market. Working with different famous channels makes you appearance precise through association.